The BEST Spicy, Skinny Margarita Recipe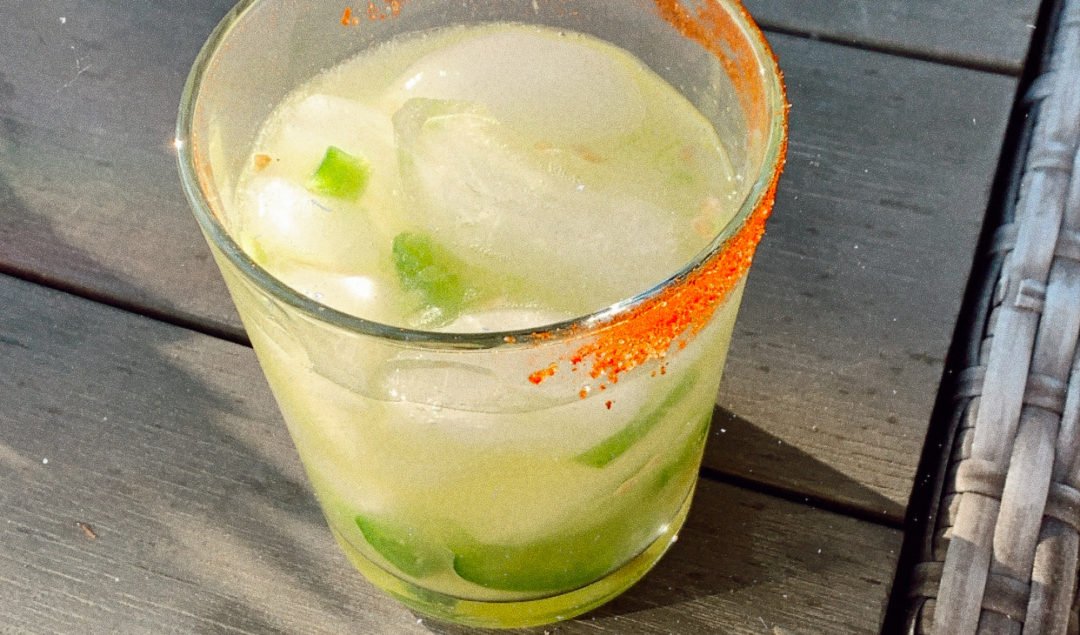 Now that the weather is heating up and we're still social distancing at home, I've turned to making my favorite drinks at home. I'm not the biggest cocktail fan as I generally find them to be too sweet, but I absolutely LOVE a skinny spicy margarita. These are not your typical syrupy and overly sweet margaritas you get at your local Mexican restaurant. These are light and refreshing, I honestly don't even care that they're "skinny" – I just prefer my margaritas this way! I swear these also don't give me any hangovers (as long as you don't have too many!).
A spicy skinny margarita my go-to drink for girl's nights, date nights, sitting outdoor, honestly so many situations! It's the ideal drink, in my opinion. The best part is how easy they are to make! I am the furthest thing from a mixologist but I can whip one of these up within minutes. They are SO good with chips & salsa/guac and just scream summertime.  Perfecting our recipe at home has been a game-changer. I've had so many variations of this drink over the years, I honestly avoid it at most places unless I know they do it well. There are so many things that can go wrong with a margarita, so once you find a recipe you like it's worth asking the bartender very, very nicely if they'll make it the way you prefer. So with that said, here is my insanely easy but so refreshing spicy (skinny) margarita recipe.
The BEST Spicy Skinny Margarita Recipe
The key to a good skinny margarita is to go easy on the sweetener and use FRESH juices. It's a little more effort, but honestly SO worth the squeeze. The secret ingredient in ours is freshly squeezed orange juice rather than orange liquor (typically Triple Sec or Cointreau). It's a small change but you will notice the difference immediately – I promise you won't miss the liquor AT ALL. You're also cutting out the added sugar and alcohol, which is a major bonus in my book.
The second change is to go easy on the sweetener. If you're at a bar or restaurant and don't want to drink tequila on the rocks (the "skinniest" drink but not the easiest to consume), you can always ask for a margarita with lots of fresh lime juice and to go easy on the sweetener. If you're a little more particular, you will want to be specific about how much sweetener. I make mine at home to taste and don't usually measure the amount of sweetener (we use agave), but I would estimate it is about a teaspoon, if that.
Most margarita recipes call for 1 ounce of sweetener per drink – that is A LOT of sugar, think a shot glass worth. All of this sugar is what ultimately leads to hangovers and major headaches the next day. Cutting down on the sweetener and using freshly squeezed fruit juice – which also has sugar, I have to add – which be a lot easier on your body.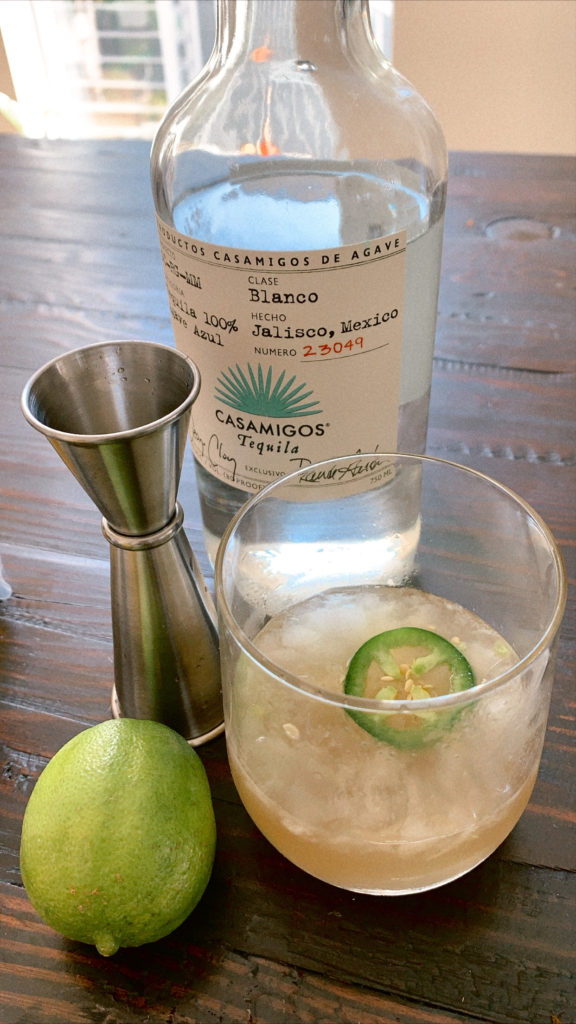 Spicy Skinny Margarita Recipe
+ 2 oz tequila – I like Casamigos Blanco for my margaritas, but Espalon is good for cocktails as well and really affordable.
+ 1/2 oz freshly squeezed orange juice – I usually use 1/4 of an orange
+ 1 oz freshly squeezed lime juice – I usually use 1 medium-sized lime
+ 1 jalapeno, sliced (to taste)
+ 1/4 – 1/2 oz agave nectar or sweetener of your choice
+ Salt for the rim – I like Tajin, or none at all
+ Lime wedges
+ Ice
Instructions:
If you like salt on the rim, do this step first. Rub a lime wedge around the top of your glass and dip it in salt. Chile lime salt or Tajin compliments a spicy margarita very well. If you're looking to go easy on the salt you can skip this step entirely or just do half of the rim.
To make the cocktail: muddle jalapeno slices and lime in a cocktail shaker. Adjust the amount of jalapeno depending on your spice preference – I like mine extra spicy so I always use at least 1/2 of a jalapeno. Go easy to start, you can always add more! Add agave, orange juice, and tequila. Shake and strain over ice – garnish with a lime wedge and jalapeno slices.
You can easily adjust this recipe for different margarita variations by adding different fruit juices to the mix or muddling fresh fruit in place of the jalapenos. Some ideas: fresh watermelon, mango, passionfruit, raspberries. The possibilities are endless!